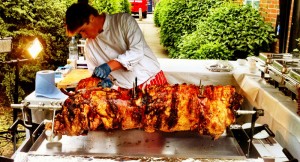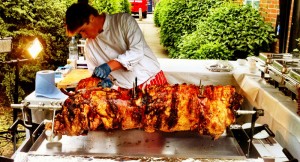 The reaction we get from people tucking in to our hog roast Brigg roll is always rewarding to both your guest and to us as we love to see people enjoying catering that we have created for them. Despite Brigg being such a great area for quality food, this for many people their first experience of a real hog roast but it never seems to be the last for them once they have tries spit roasted meat. If you ever been to a hog roast Brigg function, you'll know that the roasting machine is often the centre of attraction, always being a source of great interest for those at the event. It's a real source of fascination seeing the whole hog roasting process taking place. The pig roast Brigg cooking away in the machine on a rotisserie seems to fascinate not only the hungry young children but also the adults too.
Quality Food Catering Is Available In Brigg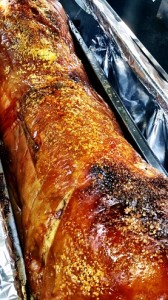 One of the best aspects for me about  being a hog roast Brigg caterer is that almost everyone enjoys the succulent taste of a great hog roast and they give you wonderful feedback this is what we also use for our testimonials. Children, teens, adults and the older generation all love the rustic edge to the whole process as it is not something you see everyday. My career as a hog roast hire Brigg caterer is in full swing. Brigg is well known for its successful jam and sugar production producing products for stores all over the united kingdom, so I thought it was about time the people of Brigg should start enjoying some great tasting hog with their relishes. The superb flavours you get during the hog roasting process really are something else, we don't just carve the meat and serve it straight in to a soft floured roll we carve the meat straight from the carcass whilst the queues form so it is still fresh moist and hot and whilst carving the meat we place it in to the pork juices that are in the roasting tray so the juice soaks in to the meat to perfect the pork sandwich which does not come much flavoursome than ours, we also take the cracking off the pig (did you know our pigs always crackle with our machines?) we cut the crackling up in to sections and let your guests help themselves to the tasty treat it is always crunchy and full of flavour, our crackling is rubbed with a layer of salt which also soaks through to the pork.
A Hog Roast Is Suitable For All Parties Or Events
I was introduced to hog roasts whilst at a christening do about three years ago at the Black Bull and I was hooked. 'I can do that,' I thought. 'I can be a hog roast caterer in Brigg'. And here I am, doing just that.  The people of Brigg know their quality produce as there are plenty of farmers' markets in and around Brigg, so a hog roast caterer like myself can have a lot to live up to. However, I seem to be doing a pretty good job, as the people of Brigg are keeping me extremely busy with lots of bookings coming in on a regular basis.  Maybe they can also tell that my hogs are sourced from one of the UK's best suppliers of quality meat.
Brigg is a great catchment area for a hog roast Brigg catering operation. Not only do you have the residents of Brigg to pitch at, you have a large range of pubs, venues and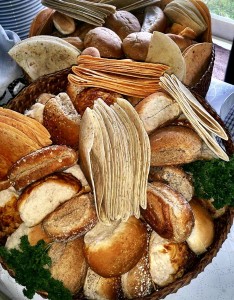 more corporate clients. Some of the best events I have catered for have been corporate evenings. Do they want a stuffy formal dinner? No. They want my great tasting hog roast! As for private events, I've had lots of people tell me afterwards that the hog roast hire Brigg is such great value compared to other food catering that they feel it's a no brainer.
I think one of the best things about being a Brigg hog roast caterer is the job satisfaction. I spend most of the time with a great big smile on my face because people love the taste of what you're serving. It's hard work, of course. You need to make sure everything is done properly and look after your hog roast equipment…but if you put in the effort, the rewards are fantastic. A great job serving great tasting food and great feedback. My time being a hog roast hire Brigg caterer looks set to continue for a while yet.