Lincoln's Best Hog Roast Caterer
Welcome to Spitting Pig Lincolnshire, the number one choice of caterer that's perfect for all kinds of events and celebrations. If you are looking for a catering company who can provide a delicious feast that will leave your guests blown away then you needn't look any further! We are here to take the stress out of catering for you so you can sit back and enjoy the party with your guests. With our unique recipes and flavours you will be sure to have satisfied everyone's taste buds!
Just about anywhere in Lincolnshire is a great place to get married, and Scunthorpe is no exception. When you think of Scunthorpe as a venue for your wedding you are in for a real treat, the town is a very proud and pretty place. It boasts spectacular scenery, in particular views of the Trent Valley, and it's easy to get around. Over the years, we've done many catering jobs for families in the town who require a top-quality feast to match their occasion, whether it's a birthday party, funeral or even a business event.
However, we're often inundated with requests from soon-to-be-wed couples wanting to order something from our bespoke Wedding Menu for the big day. We know that getting married is possibly the most important thing you'll ever do, so with that in mind, we've tailored our wedding menus so that they fit the occasion perfectly by using the best quality ingredients for our sauces, sides, desserts and, of course, the hog roast itself.
Hog Roast Lincolnshire Catering
Although hog roasts may conjure up images of a rustic feast rather than a refined meal, we can assure you that our catering style is ideal for special occasions and more formal dining too, and it the perfect catering option for wedding receptions of all sizes. Our meat is delicately roasted for a number of hours until it is oozing with flavour and falling off the bone. It makes a fantastic centrepiece for any occasion, especially when accompanied by a broad array of beautifully presented side dishes. We have wedding catering packages to suit all budgets and styles, and we make all of our starters, desserts, canapes and sides from scratch on-site using the best locally coursed produce. We will also take care of providing everything else you need too, including crockery and cutlery, a serving table, and if required, a catering gazebo.
Experts In Catering For Variety
As well as weddings, we also do private parties, corporate events and Hog Roast Grimsby Christmas catering, providing separate menus for each. Whatever your event is, we've got the right food for it. Being in the Grimsby hog roast catering business, we spend a lot of our time serving people who ask us to come to their events. However, we also like to provide the equipment necessary to give you the chance to roast your own pig, should you fancy taking on the challenge.
Whether you would love to try your hand at a classic hog roast feast yourself for a family party, or you are planning the ultimate barbecue for a local event you are organising, we have hog roast machines available to hire for a very reasonable cost.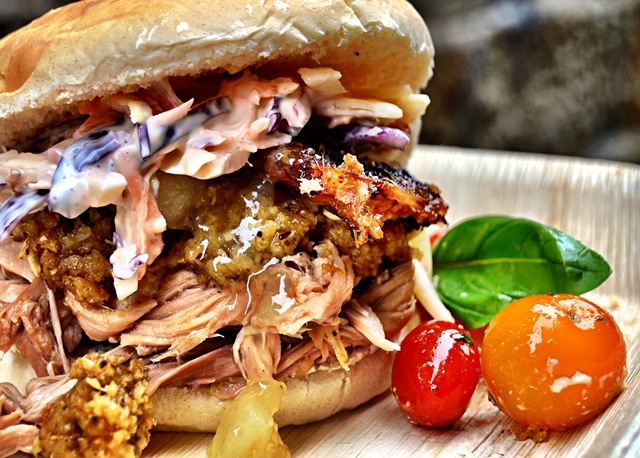 If you want to benefit from Hog Roast Lincolnshire's event catering expertise for your event and you would like our expert team to be on-site taking care of the food for you, we are bound to have a menu to meet your needs. We are able to offer you a personalised menu that is completely unique to your event and you can feel totally confident about leaving the catering in our very capable hands.  We can cater for both intimate gatherings and large-scale events with equal success. We will arrive on-site several hours before your event is due to start and whether we are catering for 50 people or 500, we will freshly prepare all of your food at your venue on the day. If you hire us to cater for your event Lincolnshire, you won't have to worry about a thing other than having a great time alongside your guests!
As professional caterers with a number of years experience in event catering we understand what is required to ensure your event is a success. Not only is the food important but our professionalism, presentation and organisation is paramount. Starting with our vehicles, we only use clean and tidy vehicles under 5 years old, so no old beat up van turning up at your wedding reception.
All our staff are trained and experienced in the service they are providing whether it be waiting, carving or front of house at your wedding. Presentation on site is critical to giving the right impression to your party guests, that is why we use linen table cloths for our serving and buffet tables (pleated down to the floor for weddings), professional salad crocks and chafers for the buffet table and always offer the option of stainless steel cutlery and china crockery whatever the menu. So, whether an outdoor garden party or an indoor formal event in Cleethorpes or Skegness we can provide a service second to none.