Your Hog Roast Bag Enderby menu can be just about anything that you want it to be, even if a hog roast isn't actually your cup of tea. While our signature food is hugely popular with our customers and their guests, whether served as a hot meal with seasonal veg, potatoes and all the trimmings or as heaps of pigs in buns, which are fresh bread rolls and wraps, full of meat, crackling, apple sauce and stuffing, we've always understood the necessity for choice and variety to be on offer too and one look at our substantial menus and you'll see exactly what we mean.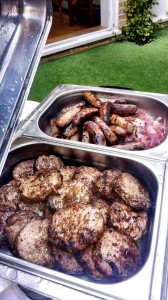 As well as options for special diets, you may prefer an alternative meat to be prepared, cooked and served at your next special occasion, and we can easily spit roast your choice, like whole chickens or turkeys or some lamb or beef. Maybe you'd like to feature one of our special standalone menus instead, such as our Southern Slow Roast, where you select three main meats and four sides, or our three-course Alfresco, which starts off with Italian-style meats, cheeses and breads, followed by a hog roast and then a choice of desserts for a perfect finish. We can also cook our traditional Barbecue, which has our chef's own gourmet sausages, burgers that are 100% beef, chicken kebabs and spare ribs, or our Loaded Fries, which are topped with meat, slaw, cheese and jalapenos.
If you'd like additional food to be provided, whether that's just a side or two or a great feast consisting of canapés, starters, sides and puddings, Hog Roast Bag Enderby has got you covered. It's all up to you, so you could order a main and nothing else if that suits you, or add sides like potato salad, mac and cheese, coleslaw or fries, or you may decide on canapés of beef fillet, mini fish and chips, roasted duck, halloumi and smoked salmon, followed by homemade soup and crusty rolls, a hog roast with roasted new potatoes and a Caesar salad, then finished off beautifully with profiteroles and sticky toffee pudding. Your Hog Roast Bag Enderby menu is exactly what you want it to be.