Thorpe on Hill Wedding
Thorpe on hill Hog Roast wedding last Saturday was amazing! The weather was definitely on our side in the beautiful sunny country setting! Congratulations Mr and Mrs Hunt. Thorpe on hill Hog Roast meant an early 6am start as they picked the classic wedding menu which meant lots of luscious canapés, starters, mains, salads and puddings all packed into one day! Well done fantastic choice I must say. All the meat was cooked in front of guests for a serving of 3pm. As the speeches where made I could see people's heads turning and hear little comments "mmm can you smell that".
As per the brides requests we started to bring the freshly caught salmon out for the starters served with a mustard and drill dressing.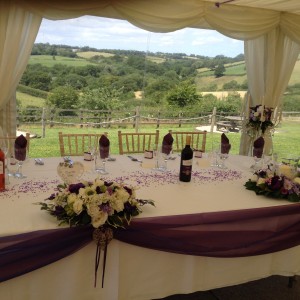 The starters where quickly over and done with, I have never seen people eat so fast! The mains where a classic Thorpe on Hill Hog Roast pig and also they chose another meat option which was chicken. You could certainly smell the meats as these where both cooked at the end of the room so all the guests could see. We carved the meats on to the plates as guests had already decided before they came to the wedding which meat they would like! The waiters then applied the sides that had been pre chosen by the bridge, these where homemade onion and sage stuffing and my homemade speciality apple sauce! Also by the bridges instructions she wanted everyone to have fresh green leaf salad and new potatoes marinated in homemade garlic butter sauce as an extra. The puddings and Canapés went just as well as the starters and mains and everyone was approaching me and thanking me for the meal, I had never had a reaction like it. I even received an email personally thanking me from the couple!
Thanks Mr and Mrs Hunt and I hope my Thorpe on Hill Hog Roast made your day very special! Again Congratulations.