Did you know that Hog Roast Branston caters for corporate events? It's true that we host tasteful private parties and organise lavish weddings, but we believe that a Hog Roast is the perfect addition to any event, and have long been providing professional establishments with our fresh, quality cuisine. This week was no exception, and the team had been asked to cater for a corporate party at an insurance firm, celebrating the service and loyalty shown by one of their members of staff.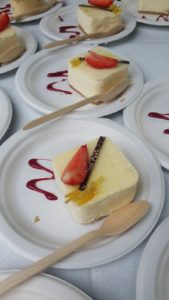 Craig was just a fresh faced young man when he first walked through the office doors, but now he's a manager that everybody looks up to. His employers had donated funds for a party, and had asked a member of the office called Nadia to organise a surprise celebration for him. Nadia gave us a call to arrange the particulars, including a choice of menu. Not only was Craig going to be treated to a hog roast, but he would have an exquisite selection of canapes and desserts to choose from as well.
On the morning of the event, the team at Hog Roast Branston arrived nice and early to set up and begin the slow roasting process. Not only is the Hog roasted slowly over several hours, it's also turned continually to allow its natural basting fluids to disperse evenly throughout the meat, resulting in a succulent, tender finish with crispy crackling to die for. When Craig returned from his meeting, and walked through the office doors, his entire team, including his bosses, were all there to shout surprise. He was overcome with joy when he seen the effort everyone had gone to for him, and was thrilled when he got to be the first person to try our infamous Hog roast.
Our Chef from Hog Roast Branston served Craig and his guests, and our waiting staff roamed with canapes. Among the selection were the Spicy Thai Chicken Kebabs and our scrumptious Peking Duck Wraps. There was also a light and fluffy cheesecake available on a separate serving table. When it was time to pack up, our team from Hog Roast Branston tidied everything away discreetly and efficiently, disposing of any waste off site.