The Hog Roast Susworth team were required to demonstrate our flexibility yet again at a wedding we have just catered for. Whilst bride and groom Lisa and Ryan were relieved that their wedding could still go ahead, they had already had to make lots of changings to their wedding reception plans due to the restrictions on social gatherings that have been in place over the last few months. When the government announced that wedding guest lists had to be reduced even further, the couple were almost at the end of their tether and when they got in touch with us to discuss the situation, they were almost on the verge of cancelling the whole thing. Luckily our positive and reassuring approach to the changing situation put the stressed-out couple more at ease. We assured them that if they still wanted their wedding to still go ahead, we would be as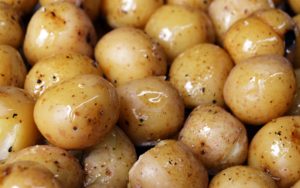 flexible as possible in making any necessary changes to their chosen menu or the style of service, whilst ensuring that all necessary safety and distancing measures were in place without it diminishing the sense of occasion or enjoyment of those who could still attend!
After liaising with Lisa and Ryan, Hog Roast Susworth's experienced events team took all of their menu alterations on-board, which included removing the planned canape welcome reception due to distancing requirements, and removing the vegan option, as sadly, they could no longer invite their friends who had that dietary requirement.
We only needed two members of staff on-site to freshly prepare the altered wedding menu and to take excellent care of the smaller number of guests who were attending. We still made everything from scratch on-site using our usual high standard of locally sourced produce, including our signature slow roasted pork served with apple stuffing and crispy crackling, seasonal vegetables, and rosemary infused potatoes. We also took care of delicately dressing the wedding cake with fresh berries and cream, ready to present to the couple after the meal. Lisa and Ryan may not have been able to have the big wedding reception they had dreamt of, but toning down the proceedings didn't make the day any less special for the couple, and they couldn't thank the Hog Roast Susworth team enough for being so adaptable and for providing such a lovely amended wedding menu!