A beautiful day for the annual food festival in Ruskington and this year it's going to be even better. Why? Because Hog Roast Ruskington will be there of course! Trying something a little different as we brave the fresh air, elements and the hectic streets of Ruskington to bring hog roast to the Great British public. Lunch time is approaching fast and though the queues have been steady all day things are really starting to hot up as stomachs start to rumble. People from all over the town follow the irresistible aroma to the Hog Roast station where person after person eagerly devours and enjoys their hog roast sandwich, with of course the best homemade sauces around. The queue, now easily as long as the road on which we have set up shop, dwarfs the other contenders considerably. The food fair in Hog Roast Ruskington is a success. Sauces are dripping and there's no room for a seagull to drop in, smiling contented faces mill around as a quiet place to enjoy their succulent hog roast is hard to come by. Compliments on the amazingly cooked meat were matched by those given to the chefs and array of condiments available.
As the day began to wind down and the vast crowds dwindled the evening meal became the hot topic. Though our supplies were starting to dwindle due to the enormous success of the day more people came to frequent our stall to quench drooling mouths of all ages and stop the many audible stomachs from growling, they clearly hadn't come to us for lunch otherwise they would still have been stuffed.
Ruskington's food fair was definitely a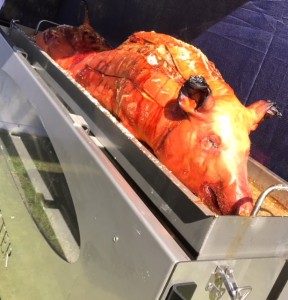 different experience from weddings and corporate events. It was clear though that they are no less hectic (if not more so) with as much indecision on which sauce to pick and just as full of smiling satisfied faces. Whilst the usual selection of sides we offer was absent not a single complaint could be heard and by the end of the day after the last visitor had left it was great timing as we had just ran out of food! Overall we at Hog Roast Ruskington couldn't be happier with the days success and definitely an event to consider in other towns.