Having finally realised her dream of opening her own hair and beauty salon, Becky had spent weeks planning and advertising her big launch party. With so many other things to worry about, the last thing Becky needed was the added stress and hassle of doing her own catering as well. Becky desperately needed caterers who could produce an impressive spread to wow her potential new clients, whilst also being able to fit comfortably in the courtyard of her new premises without taking up too much space. One phone call to Hog Roast Minting later and the new salon owner had found everything she needed for her opening evening!
Becky chose one of our chic corporate menus, which she felt would be the perfect culinary choice to show off her stylish new salon. Whilst our classic dishes with traditional trimmings are second to none and are always very popular choices, we also offer more modern and exotic options to cater for a range of palettes. It was the more adventurous flavour combinations that Becky went for and she decided Hog Roast Minting's range of innovative handmade canapes, including dim sum, feta skewers and Peking duck wraps would give her launch party just the right air of sophistication she was looking for. With equally vibrant, zingy salad options to accompany the slow roasted pork, Becky knew her evening would be a huge success!
With us taking care of impressing the guests with our classy cooking, Becky was free to concentrate on schmoozing her prospective new clients. As we whetted their appetites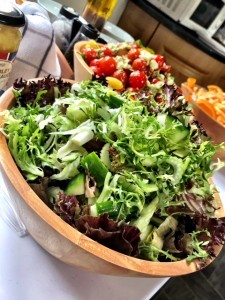 with our mouth-watering canapes, Becky was busy getting everyone booked in for hair and beauty treatments. By the time we were serving the main course, Becky's appointment book was fully booked with manicures, haircuts and spray tans for the next month! Whilst she tempted them with discounts and special offers for first time customers, Hog Roast Minting helped her seal the deal with our fabulous food! Becky thanked us for helping her to make her launch party such a huge success and she has asked us to come back next year to help her celebrate her new salon's one year anniversary!