The New Year's Eve, the Hog Roast Louth team were hired by Alex to serve a fantastic hog roast buffet Louth Town Hall for the occasion. British Sea Power, a popular indie rock band, were booked to play at the party, which many of the locals had bought tickets for, to also honour the 100th anniversary of the Great War. The team was honoured to provide their classic buffet style food and the event and worked hard to ensure that they delivered a perfect service.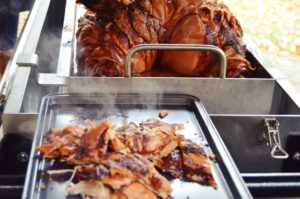 Alex chose Menu One from the Hog Roast Louth team's selection which hosted the team's classic slow roasted hog as the centrepiece which were was served with the traditional favourites of stuffing, apple sauce and crackling. Vegetable skewers were also provided as a vegetarian option alongside the meat. In addition, bread rolls and a variety of sauces were served to compliment the casual atmosphere at the party. The buffet was to be served to 475 people so it was crucial that the Hog Roast Louth team made enough food to cater for all of the guests and also that the food was kept warm as each person was served. The food was to be served between 8pm and 10:30pm so that all of the guests could enjoy the buffet. The service was led by the Hog Roast team's Catering Manager, Rob, who ensured that everyone ran smoothly and all of the food was cooked to perfection.
   The guests really enjoyed the fantastic New Year's Eve party and the food provided by the Hog Roast Louth team helped to create a great atmosphere. The band was amazing and everyone really enjoyed the music as they celebrate throughout the night. There was lots of music and dancing and the dress code for the event had been fancy dress so the guests had a great time showing off their outfit creations. All for the buffet was eaten up by the guests and the team received lots of compliments on the quality of the food. In addition, the team were really chatty and friendly with the guests and handled the busy service really well.