Recently, the Hog Roast Immingham team were hired by Antony for a wedding event. Mr and Mrs Goundry were getting married at the beautiful venue of Hunters Lodge Fishery in Elsham. The food was served outside as the wedding was blessed with lovely summer weather. The food was to be served as a buffet to encourage a slightly casual atmosphere at the evening wedding party. the team provided all of their own equipment and ingredients so that the catering was hassle-free for the newly weds.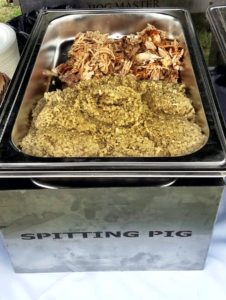 The Hog Roast Immingham team served Menu Three to Antony's guests which featured their classic slow roasted hog which was served with the traditional sides of apple sauce, homemade stuffing and crackling. The meat was seasoned and carved by the teams chefs and laid out on the buffet table. The team served jacket potato wedges as an alternative to new potatoes to the guests. To accompany the hot food, they also served a selection of three fresh salads. The food was served as a buffet to the guests which was laid out professionally. The team also served the buffet in professionally heated trays to keep the food warm.
The Hog Roast Immingham team's Catering team consisted of Callum and Wendy who created a really friendly atmosphere for the stunning wedding party. The buffet was served from 6pm onwards so it was important that the team kept the food warm as the sunset later in the evening. Mr and Mrs Goundry had invited 90 people to their wedding so it important that the team were efficient in cooking and delivering the food so that all of the guests received their food quickly. The couple were overjoyed with the service and were pleased that it ran smoothly. They were also really pleased with the food that was served to them and their guests and thought that it was all really tasty. The buffet also fitted perfectly into the wedding schedule and was exactly that the couple were hoping for. After the buffet, the team ensured that they took all their waste away with them when they packed away their equipment.