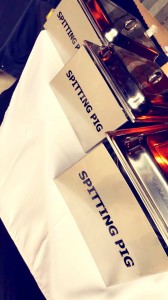 Hear the name 'Grimsby' and you're probably thinking fish – well, why not, given our town's proud fishing heritage? After all, it stretches back for many years ago centuries in fact, from at least the year 9AD, when Grim of the Vikings sailed over from Denmark to the North East coast of England, he liked what he saw… and stayed for a while! What's more, we at Spitting Pig Grimsby are keen fans of The Mariners (for the uninitiated, that's the nickname of Grimsby Town Football club) and try to catch the home games when we can – I say 'home games' but then again, the club grounds are in Cleethorpes, so strictly speaking every fixture is an 'away' game! Anyway, we do enjoy our football here in the North of England but, that said, our hog roast hire Grimsby team is usually booked up for a lot of weekend fixtures of its own with sometimes multiple jobs booked on the same day we have many chefs that are able to cater to an extremely high standard of professionalism catering for all types of parties and get-togethers.
Hog Roast Catering, from Stag Parties to Wedding Parties
A couple of weeks ago we received a booking and our hog roast Grimsby services were hired for a smashing do: a stag party, or to be more precise, a pre-stag party! A bunch of lads booked us for a buffet to cater up to 50 people, before 15 of them were due to head across the Humber to catch the ferry for the next leg of their celebrations. Let's face it, stag nights are the time to let your hair down, and more often than not your mates play a trick or two on you. Well, this one was no exception as Pete, the groom-to-be, was to find out! On the Saturday afternoon, we arrived at the function room of the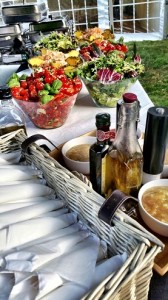 local pub that had been booked for the event, to set up our spit roast and start preparing the evening's tasty treats. The guys had ordered a nice and easy buffet hog roast Grimsby tender pork with crispy crackling and tangy apple sauce, soft floured rolls and a choice of green leaf and potato salads with coleslaw and warm new herb boiled potatoes and a tasty quiche as a treat for a couple of the veggie eaters, and our team set to work, making the salads from scratch and slow roasting the meat in the  machine, it was all timed so that just at the right time to serve it up, it would melt in the mouth and leave them wanting seconds which is something we always come prepared for.
Professional Chefs on hand to Cook your Hog to Perfection
There's a fine art to spit roasting and our hog roast hire Grimsby chef is a master at perfecting the meat! It turned out that Pete's pals had agreed the stag party would take place with the guests in fancy dress, but what they didn't tell Pete was that the fancy dress bit of the evening would only happen from the ferry onwards… so, yes, you've guessed it… Pete walked in dressed as a huge fluffy teddy bear – to find 49 guests kitted out in smart suits! He was a really good sport, though, and was doubled up laughing (which I dare say isn't easy when you're dressed as a teddy bear). Just as well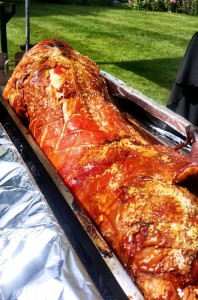 his friends had brought a spare suit to the buffet! The night flew by and soon it was time for our pig roast Grimsby team to clear away and pack up as the guests enjoyed a last couple of drinks for the road – and one for the ferry! No event it too extravagant for our catering services we are able to provide great menus to suit everyone's budget so don't be put off if you thing a finger buffet may be cheaper because after all the effort you have put in rushing around trying to please everyone you may just wish that you had decided against catering the event yourself and warm to the idea that a hog roast is defiantly more suitable for your next event, why worry about catering when we can take care of this for you, you will not need to spend the whole entire time stuck in the kitchen in the morning and even the night before because we will turn up six hours before your serve time and prepare to serve up your chosen dishes to your customers.