This week Hog Roast Grimsby had the pleasure of catering at a 50th birthday party. Catering manager Rob had been contacted by Linda who was looking to find a caterer for her brother Peter's birthday. She informed us that the party would be taking place at the family home and that she would like catering for approximately forty of their family and friends who she had invited to help celebrate.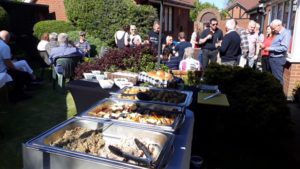 Whenever Hog Roast Grimsby are booked to cater we get straight to work planning the menu and organising the logistics of the event. Thanks to the design of our trusty hog roasting machines we are able to cater both indoors and outdoors depending on the level of ventilation and providing access is clear we can cater from absolutely anywhere!
Linda had requested our menu three option to be served on wooden crockery at three 'o'clock. With this Hog Roast Grimsby menu you get our classic Slow Roasted Hog Served With a Selection of Fresh Salads or Vegetables. We find that this menu is a great way to enjoy your hog roast as a relaxed informal meal and always goes down well as guests are able to help themselves to the buffet and can have as much or as little as they like- although we are confident it will include seconds.
Linda also requested our chef to create a vegetarian option for the guests attending that don't eat meat. Of course, we were happy to oblige and prepared our delicious Grilled Vegetable and Haloumi Skewers, Served with Pitta Breads and a Tzatziki Dip.
Once the guests had arrived it was time to serve up our food, making sure Peter had the first helping! From the grin on his face it was clear to see he was enjoying himself and we were proud to have been a part of helping him celebrate his fiftieth!