Although it is becoming increasingly popular in both the amateur and professional ranks, women's football still arguably does not get the recognition it deserves, which is why Hog Roast Greylees were delighted to be involved in raising its profile on a local level, by catering for an event to promote a local ladies football club! The coach Sarah wanted to celebrate her teams success and also host an event to encourage more female footy fans to get off the side lines and onto the pitch. They also had big plans for the future of their club and wanted to start a coaching academy, promoting confidence and the importance of regular exercise, aimed at girls of school age who were perhaps not that enthusiastic during their PE lessons when their only options were rounder's or netball!
The plan for the evening was to invite anyone who was interested to watch one of their training sessions, followed by the opportunity to mingle with the team, chat to the coach and hopefully sign up to join in the fun! Sarah decided one of our awesome hog roasts would be a great incentive to get the local ladies to come along, as our sociable way of cooking would create the right kind of relaxed environment to put the female footy fans at ease and encourage them to get involved. She also liked the diversity of our menus, which meant everyone could enjoy a tasty meaty treat, with more than enough fresh, energising side salads to satisfy even a premier league team's top nutritionist!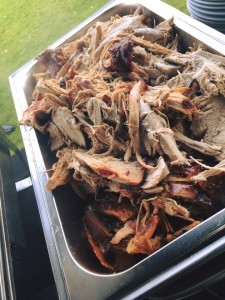 Hog Roast Greylees arrived at the training ground several hours before kick-off to allow us ample time to slow-roast the pork to perfection and prepare all of the side dishes from scratch, as we always do for every event we cater for. The coach was really pleased with the number of ladies who arrived to watch their showcase training session and they remarked that Hog Roast Greylees tested the concentration of their players to the limit, as the savoury scent of the pork wafting across the pitch was proving to be quite a distraction!
After we served the buffet and everyone had a chance to chat as they tucked in, it was clear that Sarah's ambitions for her club were going to be realised. The female football coach may have ended the night with enough new sign-ups to make up an entire world cup squad, but she agreed that when it comes to hog roast buffets, there is no substitute for Hog Roast Greylees!