Are you currently planning a special occasion and looking for caterers who work hard to provide excellent service while providing tasty food that everyone invited can enjoy? Then look no further than Hog Roast Gate Burton. We're well-known as traditional hog roast centrepiece masters but we're also known for the great wealth of choice and variety that we have on offer too, whether you're thinking of featuring a different kind of main meat, if you're in need of dishes for various special diets or if you'd like to create a menu of several courses.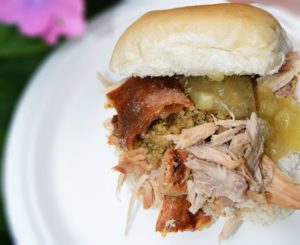 Your Hog Roast Gate Burton menu can be anything you want it to be, so if you'd love nothing more than a hog roast made into piles of our luscious pigs in buns or a scrumptious plated meal, that's of course not a problem. However, it's also not a problem for us to instead cook you lovely spit-roasted lamb, beef, whole turkeys or whole chickens or a barbecue of gourmet sausages, spare ribs, beef burgers and chicken kebabs. Fancy something a little bit different? One of our standalone menus may well be right up your street, like our new Alfresco, which gives you not only a hog roast main but a starter of Italian-style platters of meats, cheeses and breads, as well as a choice of desserts to boot.
In terms of dietary requirements, there's no need to worry, as we can cater regardless, like with vegan pulled jackfruit buns with slaw on the side, vegetarian skewers with halloumi and veg or even gluten-free pigs in buns. You just need to let us know your needs when you book, so that our chef can be prepared to whip up suitable, tasty dishes, fresh on the day, like all our other food.
Hog Roast Gate Burton also offers you the flexibility to mix and match foods between our menus in order to create the menu of your dreams, so whether you'd like a side or two added to your main or you'd like a huge feast, full of canapés, starters, sides and desserts, we've got you covered. Call us today to see how we can help you with your next special occasion.