This week was another busy one for Hog Roast Edgerton! A lovely lady called Marina had called us and asked us to come and cater for her and eighty other people at an event she was hosting for Bonfire night. Here at Hog Roast Edgerton we love catering for such festive events and so will never turn away the chance to come along and join in the celebrations so of course we told Marine we would be glad to help!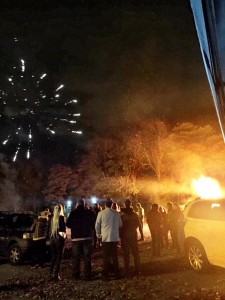 Head chef Rob was in charge on the day and tasked with preparing our standard Hog Roast Edgerton slow roasted hog along with some delicious vegetable skewers for the vegetarians in attendance. The event was being held at Banney Royd Hall and was set to be a brilliant night ahead! With a serve  time of 8.30pm we had plenty of time to get everything prepared and cooked to perfection. The event itself began at 7pm so the guests had time to enjoy the event and find a good spot before the bonfire was lit and the fireworks began.
When serve time arrived we were predictably inundated with guests all eager to try our hog roast. Luckily, this is something we are used to, and our chef Rob is an expert at catering for
large groups of people and our waiting team know just how to serve people in the most efficient yet high quality manner – ensuring everyone is satisfied and manages to get everything they could possibly want. It's safe to say our food went down a storm especially as the evening was a cold one even despite the bonfire crackling away- a hog roast really is the perfect way to warm yourself up!
The evening was rounded off with the most spectacular fireworks display I think Hog Roast Edgerton has seen! To top it off our hog roast had been enjoyed so much we didn't have any leftovers which is always a good sign – and means less cleaning up for us!