Hog Roast East Ferry spent bonfire night at Danielle's home, where she had invited her friends, family and neighbours over to celebrate the occasion with a huge party!
As the total number of guests invited was over 100, some of whom were vegetarians, vegans and children, the client had asked that we serve our Southern Slow Roast Menu, which is by far one of our most popular dining solutions as it offers something for everyone. With three delicious meat options to choose from, a meat-free alternative and plenty of tasty sides to dig into, as well, this Deep South inspired feast is always a huge hit, and, on this occasion, it was made even better because Danielle had requested one of our dreamy desserts to follow the main meal.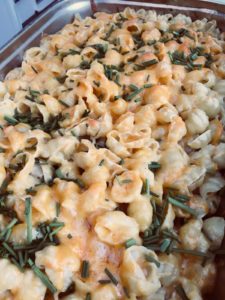 With lots to prepare ahead of Danielle's Guy Fawkes party, Hog Roast East Ferry made the journey to her home early on Friday afternoon, where they assisted with the party set-up and got started on cooking the spread, which consisted of Texan 24 hour beef brisket, fall off the bone Louisiana sticky pork ribs and Cajun-spiced whole roast chicken. Our crew also whipped up some gourmet hot dogs for the children, and the non-meat-eating guests were treated to our BBQ pulled jackfruit rolls with vegan coleslaw. The sides Danielle had chosen included our creamy mac and cheese, mixed sweet potato and regular fries, Greek salad and corn cobbettes dripping with warm melted butter, and, topping the whole meal off was our chef's special sticky toffee pudding.
As the party began, the guests made a b-line for the serving table, where they were thrilled by the choices Hog Roast East Ferry had laid out before them. The variety on offer meant that everyone was able to find something suited to their tastes.
Having such a large garden allowed Danielle to go all out on presentation. From each fence, she had hung string lights and colourful streamers. Rainbow-coloured bunting zig-zagged from each corner of the garden, too, and, in the centre of everything was the smokeless fire pit, which the guests happily sat around and watched as the orange flames flickered and danced while munching away while fireworks popped off overhead.