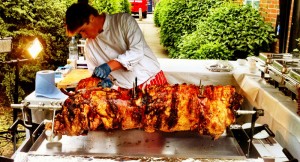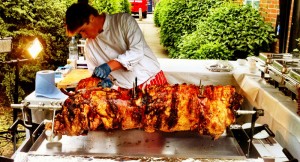 I love steam engines (there, I've said it). Remember that old black and white film, 'Brief Encounter'? Well, believe it or not but it is one of my all-time favourite films. There's something so romantic about the railway's golden age of steam which makes me a fan, and we at hog roast Cleethorpes love nothing better than to watch the Cleethorpes Coast Light Railway chug-chug-chug its way along the seafront. Whether it's sunny, raining or even snowy, the locomotives and carriages look splendid and are loved by tourists near and far and towns people alike.
So, as you can imagine, I was more than delighted, perhaps over the moon might be a better phrase to use when our hog roast Cleethorpes catering services were booked for the 60th birthday party of a chap who, like me, loves our local railway attraction.
Catering for the Young and the Old
Ever since he was a young lad, Malcolm has been fascinated by trains, so for his milestone birthday his wife treated him to a full day 'driving experience' course, at Cleethorpes Light Railway where he was trained to drive the steam engine himself something that I would love to do one day myself. We were booked by Malcolm's daughters for the event Jennifer Louise for the party to treat her father later in the evening at a local hotel. Being a seaside resort, we have a fair few hotels in Cleethorpes that seem to attract many tourists, so there are plenty to choose from!
That's where we got to hear about Malcolm's railway adventures. "After all these years,"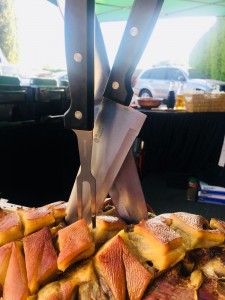 he said, "there I was, in control of a steam engine. It was a dream come true!" After their trip, he told us, they had stopped off for a celebratory drink at the Signal Box Inn, which is reputedly the world's smallest pub quite strange I might add. While all this had been going on, of course, our hog roast hire Cleethorpes team had already arrived at the hotel and were setting up the spit roast with sirloin of beef – the birthday boy's favourite – and preparing the side dishes in readiness for the evening bash.
What makes hog roast hire Cleethorpes spit roasting so unique is the time it takes to cook the meat: it takes several hours as it is roasted ever so slowly, which gets you a cracking result every time, the crackling is just perfect, you can sometimes buy bits of crackling from your local butcher but believe me it does not even come close to the crackling you get when you spit roast a pig, it bubbles to a perfect crisp texture yet moist and warm at the same time divine enough to even make you water at the mouth! The aroma develops as the pig is rotating in the machine and although the machines do produce any Smokey barbeque smells like a BBQ the deep meaty scent of the pig cooking somehow fills the room – there's no better welcome for the arriving guests and when it's time to eat, the meat simply melts in your mouth and the anticipation of them waiting inline for there food is sure to excite your guests. Malcolm's daughters had ordered our private party menu with the roast beef and horseradish sauce beef, we spit roast our Sirloin of Beef  which seems to impress our guests and we serve this with horse radish sauce and homemade red wine gravy that always seems to please.
 We can do far more than just Roast a Hog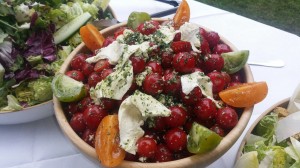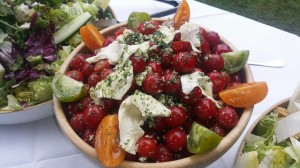 Yorkshire puddings and our red wine gravy which is also made from scratch and is absolutely scrumptious, I have to say. There was a vegetarian alternative for the youngest daughter (she's a vegan so no meat, dairy and fish so we prepared a dish according to her personal preferences). As the chef was basting the sirloin of beef to prepare it for the machine, our catering assistant was busy making new potatoes with garlic and crunchy, buttery vegetables to tantalise the guests tastes buds . Malcolm was in his element with the food we had prepared for his birthday treat, tucking in to his favourite dish. "Just when I thought my birthday couldn't possibly get any better," he said, "it just has!" I'm sure he won't mind me saying he's a very slender chap, but my goodness he has a hearty appetite – I lost count at three helpings of roast beef! But, then again, who can blame him when the meat has been tenderised to perfection!