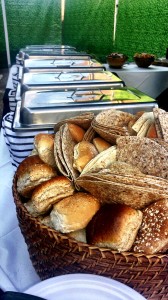 Long before Caistor became 'Caistor', back in the Iron Age, its inhabitants were farmers who raised the perfect pigs. Now that's a fitting heritage for us here at hog roast Caistor, isn't it! It was only when the Romans invaded that we actually acquired the town's name. Even today there are still some traces of our Roman forebears, for example, parts of a wall dating from the 4th century AD by the Church of St Peter and St Paul. But did you know that between the years 973 and 1030, Caistor was the site of a Royal Mint, producing coins for English monarchs? I'm rather proud of the regal connection in this little town – something that's also reflected in our lovely cast iron Lion Pump in the market place, which was built to mark Queen Victoria's Diamond Jubilee in 1897. In June this year, of course, people the length and breadth of Great Britain celebrated our current Queen's Diamond Jubilee.
Hog Roast Caistor, A Centuries Old Tradition Of Cooking
Needless to say, our hog roast Caistor team were very busy catering for parties all over the town to celebrate the occasion with catering that satisfied many guests we catered a selection of menus from our traditional hog roast party menu 1 option to our full on party menus including things like canapes, starters seated main courses with salads and potatoes and a selection of tasty puddings that the kids are sure to enjoy. We offer a wide range of menus, but our hog roast in a roll and summer BBQ packages seemed to be particularly popular in May and June however over the years we have found that a traditional treat seems to go down very well at almost any time of the year and any event seems to be an excuse for hog roast Caistor catering. If you decide you would like to go ahead and hire one of our machines for your event, they can offer people the chance to enjoy a tasty barbecue style buffet but without any of the effort.
 The Centrepiece Of Your Event
Apart from the spit roast itself, which makes a good conservation piece for party guests, the sharing of food is an important ritual and something that people have enjoyed down the ages. Whenever our chef starts to slice the soft roast pork, signalling that the hog roast Caistor feast is about to begin, it's always nice to watch the guests gradually stop talking and turn towards the spit roast in anticipation. What tends to focus their attention next is a plate of soft rolls, filled to the brim with tender roast meat the meats beautiful juices, apple sauce and stuffing! Not only do we supply the perfect hog roast for our customers but if pork is not to their taste we have a BBQ option available, our BBQ menus include handmade beef burgers, gourmet sausage and spare ribs and even Chicken kebabs so there's always plenty of choice – and even though we're known for our hog roasts, believe it or not we even catered for an all-vegetarian barbecue buffet this summer, yes indeed, we always aim to please with some fantastic dishes available for the veggies out there too so if you have a few attending your event don't be afraid to have a hog roast when we can offer them a choice too!
 Let Our Catering Team Take Away All Of The Stress
The other good part of our hog roast Caistor service is that we clear up any mess the food has made afterwards including things like crockery and cutlery, so that the party hosts can enjoy 100 per cent of the time with their guests. For our snack buffet packages, we usually supply disposable tablecloths for our serving tables where we lay our side dishes, plates and napkins which our catering assistant and chef can quickly tidy away without any fuss at all. Now that the royal celebrations are over everyone seems to be preparing for the winter months and that means lots more themed parties, complete with fancy dress for Halloween and fireworks for bonfire night, … just the way we like our October and November celebrations in style! Our hog roast Caistor team is on the starter's blocks, ready for all the superb bookings we have lined up around the area in the coming weeks! If you are interested in having a hog roast at your event enquire with our team today and we look forward to hearing and possibly seeing you soon.