No matter what the event, whether it be a wedding, a funeral, a christening or a party, at hog roast Butterwick, we will be there to cater for your hungry guests. Our menus range from simple to formal sit down meals and we offer gluten free, vegan and vegetarian options for those with special requirements. Our flexibility as a company is well known around Britain. Our team of dedicated professionals create a perfect environment for any kind of occasion. Of course, we are well known for our hog roasts, hence the company name, however we do offer several other meals. These include veggie skewers, fish, red and white meats, salads, bread rolls and sauces. We allow our customers to create their own menu if they want to request specific foods. As well as mains, starters and desserts are available too. Our most popular dessert choices are chocolate tart, summer berry pudding and a range of ice creams.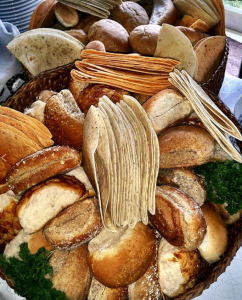 Last year, our team catered for hundreds of events all around Butterwick and the surrounding areas. We even have small portions for them special young birthday celebrations. Our team is always friendly and happy to help. At every event, we take our professional hog roasting machines with us, these beauties create our famous spit roasted meat, whether it be lamb, hog, chicken or beef, it will be the star of the show. All of these are carved by one of our chefs, usually accompanied with our delicious bread selection and piled onto the plates of your chosen guests. The fantastic thing about our company is our variety, we don't just cater for events, we also hire and sell the machines for those who prefer to do it solo. Training days are run during the year to help those who are beginners with our equipment. Both the cooking and cleaning process are demonstrated by our team on the day, leaving you with knowledge about what these machines really do.
Our 5 star reputation is not for nothing, we work hard to ensure all of our customers are satisfied. Years of dedication and quality food has brought us to where we are today.