Hog Roast Broughton has spent a long time helping to make our customers and their guests very happy, and that's by turning fresh, high-quality, local ingredients into all kinds of delicious homemade dishes. Whether you fancy a traditional centrepiece hog roast, spit-roasted lamb, beef, chicken or turkey, or something entirely different like a barbecue or marinated meats and accompanying sides, we can do it all, and we even have plenty of dishes that we can make to satisfy dietary requirements too. Vegetarian, vegans and those with a gluten allergy or intolerance are all well-fed when it comes to Hog Roast Broughton, and if you need any other diets catering, we will do our utmost to fulfil this.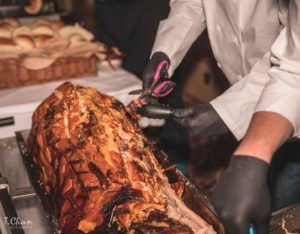 We also ensure that our professional, dedicated team members attend to your every whim, and our service is difficult to beat. For a birthday party that we catered over the weekend, our chef and catering assistants all worked hard to provide top-notch service with a smile, and by the end of the night, we had a long list of potential customers asking us about everything that we can do, for various kind of parties and events.
For his 30th celebration, Tim had asked us to make Hog Roast Broughton pigs in buns for most of his 65 guests, and to provide a vegetarian option too. The pigs in buns themselves would be created by us preparing a fresh, local pig at the venue (a local hotel, where we would be cooking inside the large marquee), and then cooking it for hours on end until the outside had turned crispy and the insides were soft and tender. Once the hog has rested a short while, we would carve off the salty crackling and carve the meat into small pieces, fill fresh bread rolls with bits of both and top with our own homemade apple sauce and stuffing and then they would be given to the guests to add their choice of condiments if preferred too. Plus the vegetarian option of veggie skewers, with halloumi and seasonal vegetables, would be grilled and then served with pitta bread and a Tzatziki dip at the same time as the pigs in buns.
On Tim's birthday on Saturday, we wowed him and his guests with some truly fantastic food and by the end of service, all the plates had been licked clean.