When Hog Roast Brigg was asked to cater for Vanilla Solutions at The Cedars in Grimsby recently, we knew that we could deliver just what the IT Crowd Ordered!  We regularly cater for organisations and other corporate events and we have created a selection of five menus to cater for different requirements ranging from Our Firm Favourite Classic Slow Roasted Hog in a Roll or Wrap suitable for stand-up informal gatherings through to formal events that requires sit-down service.  This client wanted us to cater for their office warming party and after discussing their requirements we mutually decided that our Southern Slow Roast Menu would be ideal; this includes our Hog Roast, beef, chicken, ribs, mac n cheese, sweet potato wedges, veggie skewers and a wide range of salads.  This is a favourite of many corporate events as it is very inclusive, with an option for the majority of tastes and requirements.  We always offer a very varied choice of food suitable for different tastes and requirements including vegan, Halal and wheat-free options too and we always liaise carefully with our clients to ensure that all expectations are not only met, but exceeded.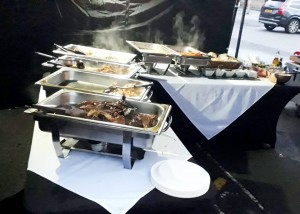 As well as catering for corporate events, Hog Roast Brigg regularly caters for private parties, charity events and weddings and in all cases, and for all events, we have a wide range of menus to suit the venue location, style and budget for each organisation (if it is a corporate event) and we recognise the absolute requirement for professionalism and good impressions so that the client's staff, partners and guests can be assured that they are in good hands.  Hog Roast Brigg consistently delivers top class results for all of our clients and this is especially important for a day like this event where the environment needs to be relaxed but with high quality services and food provided.
Once the guests started arriving our chef Rob and his daughter Kat got the roasts started so that everyone could smell the mouth-watering aromas to get the stomach juices flowing and this created immediate interest with many guests chomping at the bit to eat some of the delicious food and, once we started serving, we had so many compliments about how flavoursome and delicious the food tasted.