Last weekend we were busy as usual here at hog roast Beesby it never stops summer and winter alike we are out and about hog roasting. Saturday we set off early and headed east to cater for a 40th birthday and we were told the numbers would be in the region of 150 guests.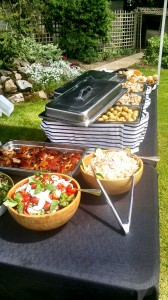 When we arrived at the venue we began to set up the machines and the first job was to put the meat on the machine for the hog roast Beesby. A brisket of beef was brought to be cooked and a fine cut it was too we only use the finest of cuts and quality is everything to us. To accompany the beef we made a array of salads all fresh and crisp and colourful prepared on the day as always, we also made an assortments of dips and dressings. The venue was starting to fill and the guests came over to us all eager to have a sneak peak of us working in action the guests all commented on how wonderful the meat smelt cooking and were keen to learn more of what we do. We handed out some leaflets to the guests and soon it was time to serve.
The beef was so moist and juicy and just fell apart as we carved. We placed the luscious meat in huge soft buns and drizzled them in dressings and salad and the guest thoroughly enjoyed the sandwiches. But one sandwich is never enough, guests always come back for more and this is what is expected and we always bring extra. The party was in full swing and everyone was full of food and fine wine! When we were finished serving we cleared away and were thanked by the birthday boy himself he said it was the first time he had tasted a hog roast Beesby but said it wouldn't be his last. He was already booking us for his brother's birthday next month now there is a compliment! The guests were a lovely friendly bunch and we love meeting new people wherever we go. As we set off home we were getting phone calls from guests at the venue it never stops here at hog roast Beesby.