Happy Halloween, or should we say Happy Hogoween from the entire team here at Hog Roast Caistor!
With there being only a short while left to go before the spookiest day of the year is upon us, it likely won't surprise you to know that our catering crew has been busy, busy, busy with all sorts of horror-themed bookings these last few weeks. Did we say weeks? Yes. Yes, we did! For us, the Samhain celebrations officially commenced very early on in October, which has meant almost an entire month of seasonal fun for our catering manager, Rob and the rest of the Hog Roast Caistor gang.
From pumpkin patch picking and school dances to open-air cinema showings and so much more, our bookings have taken us all over Lincolnshire in recent weeks. More recently, we even rocked up to a private residence where our client, Matthew, was waiting for us to satisfy his mates with our Southern Slow Roast Menu.
Dubbed Friday Fright Night by the group, the whole reason for the get-together was so that the boys could continue their long-standing tradition of binge-watching their favourite horror movies before Halloween. This year, it was Matthew's turn to host the event, and after their plans for last year had fallen through, he wanted to take things to the next level.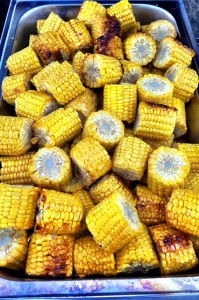 In his back garden, Matthew set up a projector screen, which the lads could view from the cosy confines of a canvas festival tent. He even bought posters for each film in the movie line-up, which he pinned to the garden fence and attached showing times underneath. Hog Roast Caistor was welcomed to use the back corner of the garden to cook the feast of beef brisket, sticky pork ribs and BBQ pork butt, which were accompanied by fiery-hot dips; crunchy coleslaw, corn on the cob, mixed sweet potato and regular fries and mac and cheese.
The guests could hardly believe the lengths Matthew had gone to to make their annual celebration far more memorable, and the food that Hog Roast Caistor served was the cherry on the cake!