Boris has given us the roadmap out of lockdown and towards normality. Normality where friends and families can gather and enjoy celebrations and each other's company once more. It has been over a year since you have seen some family members, so the celebration deserves to be BIG!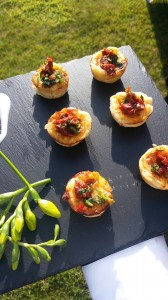 Hog Roast Asterby encourages you to go all in! A full day of delicious food! Why not start with Hog Roast Asterby's tasty canapés? Canapés can start from 11-11:30am as appetisers as people arrive and there are so many choices you can select from, its guaranteed that you can please all your guests! For instance, why not try fillet of beef, a mini-Yorkshire pudding filled with a dash of horseradish and a slice of divine fillet beef or perhaps the Indian selection, a real crowd pleaser with flavoursome vegetable samosas, pakoras and onion bhajis.
At 1pm serve the main event: a hog roast! Great for foodies as the pig gets cooked on low heat for a long period of time creating an exquisite tasting meat that just falls off the bone it is that succulent! Enjoy the whole roasted pig with sage and onion stuffing in an artisan bread roll with a portion of crisp crackling on the side – sounds delish! The roll can be served alongside some freshly prepared salads such as coleslaw or Caesar and some chips. Why not add sausages on for any children in attendance? They'll love some sausage and chips!
Hog Roast Asterby's desserts are to die for! Especially their rich, decadent chocolate torte or their citrus and fresh lemon tart, both served with cream. For something lighter, choose the vacherin of strawberries, a meringue base filled with fresh whipped cream and sliced strawberries, finished with milk chocolate shavings and a drizzle of sauce.
Cheeseboards or antipasti boards could be played out for guests to help themselves too in the afternoon. No one will go hungry! It allows people to pop in all day and still enjoy some delicious food on top of some lovely company from their loved ones.