'Corporate' and 'fun' are not two words that you would normally associate with each other, but a lot of companies these days seem to be making a concerted effort to promote a healthy work-life balance to their employees. Because of this, they are looking for ways to provide alternative corporate events that are much more fun and interactive than traditional conferences where everyone still has to be on their best behaviour and talk shop all day. Here at Hog Roast Mablethorpe, we have noticed this growing trend, because we are getting more and more requests from companies who want a catering service that has the flexibility to provide chic corporate menus in an entertaining and relaxed style, rather than formulaic food in in a drab, predictable setting.
With our growing reputation in corporate catering preceding us, Hog Roast Mablethorpe were recently asked to cater for a company's family fun day, where employees were encouraged to dress down and bring their partners and kids along for a relaxing day of games, music and of course, exquisite food! Amidst the hubbub of archery competitions, face-painting and kids versus grown-ups sack races, our efficient chef and catering assistants went about their business in an atmosphere where everyone else was strictly banned from thinking about theirs. Regardless of the environment and what is going on around us, we always remain completely focused on the task at hand, without being distracted by other activities taking place in our immediate vicinity. That being said, our friendly and sociable team are always happy to chat to any guests who take an interest in the fascinating process of hog roast cooking whilst we are preparing the food, as we couldn't do the amazing job we do if we weren't capable of multi-tasking to the max!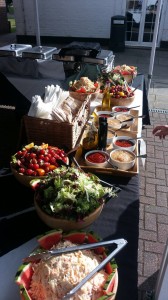 The event organisers were very impressed with the way we managed to deliver a corporate menu in a relaxed style, and it proved to be a major hit with the adults and children alike. With a range of succulent meats on offer and salads so colourful and vibrant, no one had any trouble persuading their kids to eat their greens! Hog Roast Mablethorpe are thrilled about our increased demand for corporate catering, especially at events that are as fun as this one was!