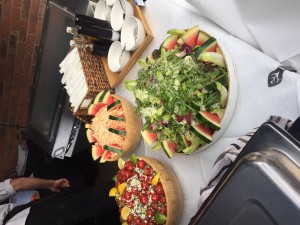 Hog Roast Ruskington, whatever the occasion, are always delighted to cater for their customers. From their most succulent hogs to the freshest salads, they never fail to impress and are an extremely popular company. We were recently contacted by Elaine who asked if we could cater for her daughter Annie's birthday one weekend in, she informed us that there would be around 30 guests so we suggested just a few of the delicious options that Hog Roast Ruskington had to offer to help her make the best decision. Elaine's final decision was a medium hog roast, with potatoes, pasta salad, soft bread rolls and as it was a children's party, we offered complimentary chicken nuggets. Elaine had also arranged with us that we cut her homemade birthday cake for Annie and serve it to all of the guests.
There was 1 chef, 1 server and myself, we arrived at the location early so we could set up and have plenty of time to spare before everyone arrived. Once Elaine greeted us and told us where to set up we began preparing the food, making sure it was above delicious and the presentation immaculate.
When all of the guests started to arrive they were instantly blown away by the colourful spread that we had presented, everyone was breathing deep to prolong the smell of the delectable foods in front of them. It's always great too see that children are extremely enthusiastic about the food we offer. Hog Roast Ruskington never let anyone down and everybody is always more than satisfied with their foods, which is what we can also say for Elaine, Annie and her friends as they were all ecstatic about how succulent the meat was. They all enjoyed it so much that they were coming back for second and even third helpings.
As the party was coming to a close, it was time for us clean everything, pack up and head off, leaving everyone in a clean and relaxed environment so they could enjoy the rest of the day, and Elaine didn't have to worry about cleaning up. Elaine and her daughter Annie were delighted with our services, Annie even begged us to come back again next year for her birthday. We were happy that it was yet another successful day, leaving the guests more than satisfied with Hog Roast Ruskington's work.