Corporate anniversaries are always worthy of celebrating- whether you have been in business for 1 year or 100 years! Anniversaries are an excellent way to look back on your successes and reward your team for their hard work. The way you choose to celebrate your anniversary is likely to depend on what style of business you run. Luckily, Hog Roast Mablethorpe have a variety of different catering styles with something to suit any form of event.
ElmStar Appliances began trading in 2011, making 2021 their ten-year corporate anniversary. During this period they have undone relocation, expansion, staff changes, and a global pandemic- so it is definitely time to celebrate! The company has approximately 130 staff members and the management team wanted to do something special for each one of them. As well as giving every staff member bonus paid holiday, they were also planning to host an anniversary event featuring Hog Roast Mablethorpe catering.
The event was a formal party taking place in a decorated marquee, with sit-down dining and live music. Hog Roast Mablethorpe was asked to provide our delicious Formal Dining menu, followed by a drinks service.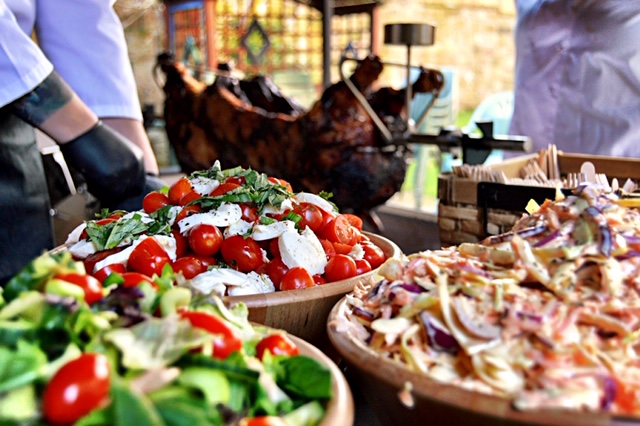 For the catering, we provided a slow-roasted pig and spit-roasted English lamb. Both meats were roasted to perfection during the day to ensure they were succulent and full of flavour. The mains were served with tomato and mozzarella salad, homemade coleslaw, seasonal leaves, and Caesar salad, as well as roasted baby new potatoes. We also served halloumi and vegetable skewers for the vegetarian guests.
Once the main course was finished and the tables had been cleared, our waiting staff provided guests with a drink to toast in celebration. This was a perfect way to end the catering, as the staff got to celebrate the successes of their company with great food, good company, and in a beautiful location.
Do you have a corporate anniversary approaching? If so, get in touch with Hog Roast Mablethorpe today to book your catering. We have over 7 different menus on offer and a selection of catering styles to choose from, ensuring that you always receive your perfect catering package.