Hog Roast Louth had a fantastic time recently, catering a Cowboys and Indians themed party locally. Over the years, we've provided fresh, tasty food for many themed celebrations, from a Star Wars birthday party to a Hallowe'en spooktacular and much more, and they're always lots of fun. For this party at Deighton Close Hall, we would be preparing a scrumptious hog from scratch, cooking it ever so slowly at a low temperature for hours and then serving it to the 70 guests together with fresh bread rolls and a selection of sauces, as well as our own apple sauce and stuffing. However, that was not all, as we would also be serving our hog roast alongside new potatoes, fresh salad dishes, wedges and sausages and a veggie option too, of vegetable skewers – so plenty of variety and plenty of food to go around.
You may not know that we offer our customers plenty of variety but we know it's key when catering parties and events, so we have several menus, let our customers mix and match if needed, and we offer options for any guests with dietary requirements.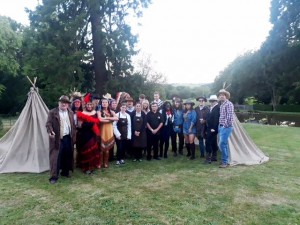 On the day of the party, our Hog Roast Louth team arrived at the venue in the afternoon to set up our gazebo, serving tables, and hog roast machine outside in the grounds, and to prep the meat for its roasting. There was a marquee and some cool wigwams in the gardens, where we set up a drinks reception area, and then our Head Chef Rob got to work on the hog, as even though service would be at 8pm, it takes time to prepare and then cook a beast to perfection. As it sizzled away, the amazing meaty aromas filled the air.
Once the guests arrived at the party, Hog Roast Louth was impressed to see all kinds of fancy dress costumes, from a gun-toting sheriff to cowboys and cowgirls, as well as Native American Indians in full dress, and with one in an amazing headdress. It was clear that the hosts and their guests had put plenty of effort in and they could see that we had too, and they tucked in to our delicious hot food with smiles on their faces and then finished off their meals with gorgeous chocolate profiteroles and meringue desserts with strawberries.