Over the Christmas period, the Hog Roast Gainsborough team has been booked by many corporate clients. Recently, the were hired by Sainsbury's in Doncaster to provide a fantastic Hog Roast buffet. The event was organised by Hazel from Sainsbury's and did she a great job of bringing everyone together.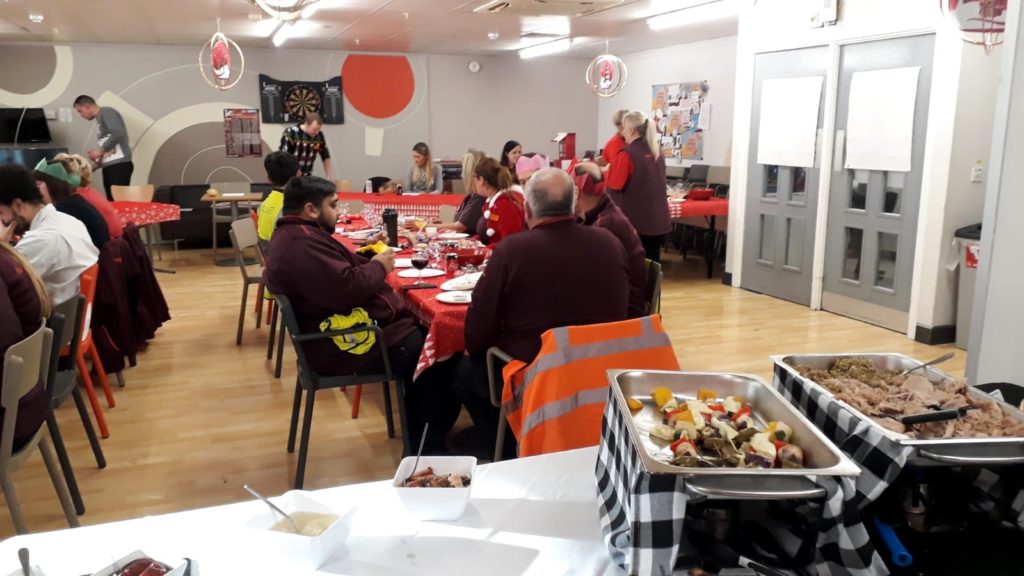 Hazel selected 'Menu One' offered by the Hog Roast Gainsborough team. The menu consisted of one whole roasted hog which was cooked fresh on site for the staff. In addition, vegetarian skewers were cooked alongside this to ensure that the Hog Roast was accessible to all of Sainsbury's staff. The buffet was to be served to 80 people and, therefore, it was crucial that all of the food was brought out at the same time. The Sainsbury's staff had done a great job of decorating the dining room in which the food was served and the event was a great way to get all of the staff in the festive mood. In addition, it was a brilliant way to reward all of their staff for their hard work over the year, and also over the Christmas season.
She also requested that the food would be served in two sittings to ensure that all of the staff received a great Hog Roast experience from the team. The first sitting was arranged from 12pm to 1 pm while the second sitting was served from 1:30 pm through to 2:30 pm. The food went down fantastically with the staff and they all appeared to really enjoy the food.
The service was led by the Hog Roast Gainsborough team's Head Chef, Rob, who ensured that everything ran smoothly and the second service went just as well as the first. In addition, the team ensured that they maintained their high standards throughout both of the service. Moreover, the ingredients were of their usual high quality and the team crafted them into some fantastic dishes for the Sainsbury's staff. The rest of the team fell into step behind Rob and they delivered a smooth service. All of the meat was fantastically cooked and nothing was out of place on the buffet.