This year, Mr and Mrs Day celebrated their amazing 65th wedding anniversary and wanted to throw a big party for the occasion to celebrate with all their family and close friends. They hired out a venue for the occasion, choosing to host their party locally at the Gedney Hill Memorial Hall, in Lincolnshire, and also hired the Hog Roast Spalding team to cater for all of their guests. The menu chosen by the couple also offers a catering gazebo along with fairy lighting to complete the party atmosphere for outdoor catering events.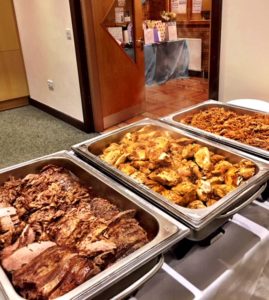 The couple chose the Southern Slow Roast menu for the Hog Roast team to cook for the party guests as it offered a huge variety of different meats and sides to suit everyone's tastes. The main dishes were made up of BBQ pork butt, the Texan 24 hour beef brisket and the Hog Roast Spalding team's classic Cajun spiced whole roasted chicken. They were served with the fantastic variety of sauces that the team offer with this menu including Jack Daniels smokey sweet BBQ glaze and Cajun hot pepper sauce. Alongside the main meats, the team served baked potatoes, Mac & cheese, traditional coleslaw and a green leaf salad. All the guests appeared to really enjoy the food and the buffet was quickly eaten up by the couple's guests.
The service was led by the Hog Roast Spalding team's Head Chef Rob who did a fantastic job of leading the team through the service and ensuring that all the different components of the buffet were cooked beautifully. The couple also had a large guest list so the team ensured that there was plenty of food to go around for Mr and Mrs Day's 130 guests. The wedding anniversary party had a great atmosphere and the evening was full of dancing and happy socialising. The couple had an amazing time at the party and the evening was a great way for them to celebrate their long and happy marriage. The couple really enjoyed the party and the food that the Hog Roast Spalding team were delighted to cook for them.