This week's event took us a bit further out of the way, but 45 minutes and 1 petrol stop later we arrived to be greeted by a lovely chap called Roy, who seemingly was already in the process of getting his old barn house prepared for tonight's antics.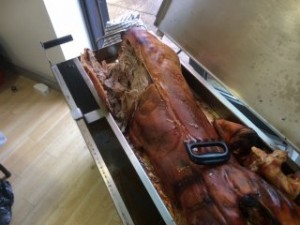 We took no time in getting our machine set up in a  corner of the barn provided by Roy before starting to slowly cook our pig. The celebration was for Roy & Janet's 30th wedding anniversary, but it was all a big surprise for his Janet! After a short while many of Roy's guests started turning up, almost everyone that came through the barn door came over to have a look at our hog roast, whilst some even enquired about purchasing one of our machines. After all the guests had arrived Roy had gone to collect his wife Janet, telling her he was thinking about buying a barn house (what she didn't know is, he has already bought it!) as this is something she wanted to convert for their kids. Just as Janet walked through the door she had a huge surprise of banners falling from the roof and people shouting "Happy Anniversary!" whilst letting of party poppers!
The party was now in full swing, with drinks being passed around and a brilliant DJ with lights which little up the barn house.  9pm finally arrived and it was time to serve our succulent hog roast to our guests, there was a smile on everyone faces, and most people came up for seconds with a few coming up for thirds!
Everybody had eaten and we had absolute brilliant feedback from the all party, even Janet herself said it was the best part of the night! Hog roast Wigtoft would love to cater for Roy and Janet again.