We had a very busy week last week people just cant get enough of our Hog Roast Welbourn food and we certainly aren't complaining! Last Thursday was a particularly busy day we were catering for a 21st birthday party for a lovely guy named Lee. Lee works away and was home for the week to catch up with friends and celebrate his birthday. We met up with Lee in the lodge he had hired for his birthday and after the formalities we left him to enjoy drinks in the lounge with friends and we began to cook.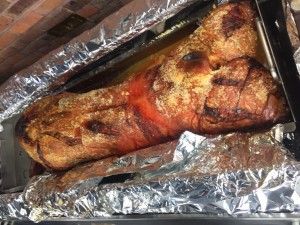 We set the large table with a crisp white cloth and covered it with cutlery and crockery; meanwhile our chef had the pig on the go and started making the sides for the Hog Roast Welbourn. Stuffing, applesauce and garlic sauces were made along with a crisp green salad with feta cheese and croutons. We then went onto make a tomato salad using red and green tomatoes and a lovely dressing and we placed some freshly baked pastries on severs and added them to the table. The pork smelt delicious as it cooked and when the pork was just about cooked we added some sweet potatoes wedges to the machine take minutes to cook and always come out light and fluffy with a crispy crunchy coat. We made a huge bowl of coleslaw and sliced some watermelon, apples, pears and bananas and made a light fresh fruit salad. Lee arrived in the room early as he said he couldn't keep away as the smell was driving them all crazy with huger! But it wasn't long after and the Hog Roast Welbourn was cooked to utter perfection and all watched in silence and amazement as our chef carved the meat and all were commenting on the smell and when they tasted it they were in disbelief saying they never thought pork could taste this good. The pork was so juicy and just melts in the mouth the guests helped themselves to the meat and the rest of the food and lee said he was in heaven!
Lee had a wonderful birthday and we stayed behind to watch him blow the candles on his cake and all enjoyed a slice, which was very nice for us too.